1-0-0 (2 points)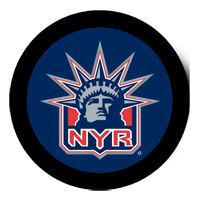 0-1-0 (0 points)


TV



This is the first meeting between these two Atlantic Division rivals for the season. Both teams have high expectations for the season and have many experts predicting them as Cup favorites.


Team scope:

Penguins: Marc-Andre Fleury on Saturday did not look like the same goaltender who was riddled by the Flyers in the first-round of the Stanley Cup Playoffs. Fleury stopped 26 of 27 shots in a season-opening 3-1 win at Wells Fargo Center, giving him 227 in his career, a franchise record (passing Tom Barrasso).

"He had to stand up big in the net and hold his own finding that puck," Penguins coach Dan Bylsma told The Associated Press. "He was real big in there, real strong. At times, I don't know [how] it did stay out of there, but it was a big finish. It was fitting he gets that win in here."

Bylsma told the Tribune-Review backup Tomas Vokoun will start this game.

Crosby did not have a point, but defenseman Paul Martin had two. James Neal, who had a career-best 40 goals last season, picked right up where he left off with one 7:20 into the first period.

Rangers: Scoring was the downfall of the team in last year's Stanley Cup Playoffs, and it didn't change much in the season opener, a 3-1 loss to the Bruins in Boston. Rick Nash, acquired to boost to the offense, had an assist on Brad Richards' goal, but the Rangers failed on a 1:30, 5-on-3 early in the third period and managed 21 shots overall.

"The first period was a bit rusty, but after that I thought we came back and played hard, but we have to finish and score goals," Nash told Blueshirts United.

Henrik Lundqvist, as usual, kept his team in the game with 31 saves. The Rangers face an early four-point gap in the standings in their home opener after traveling last night, while the Penguins made the ride up I-95 hours earlier.
Notable Injuries:
Penguins
: None
Rangers
: Michael Sauer (concussion - expected to be out for season)
Team Leaders:
Penguins
:
James Neal, Chris Kunitz, Tyler Kennedy - 1 Goal
Paul Martin - 2 Assists
Paul Martin - 2 Points
5 Players - +1
5 Players - 2 PIM
James Neal - 1 GWG
Rangers
:
Brad Richards - 1 Goal
Rick Nash, Dan Girardi - 1 Assist
Brad Richards, Rick Nash, Dan Girardi - 1 Point
Carl Hagelin - +1
Stu Bickel, Mike Rupp - 5 PIM
Quoted section from NHL.com