http://www.youtube.com/watch?v=GOlp8frMfsk

http://www.youtube.com/watch?v=NmmGJE9mA28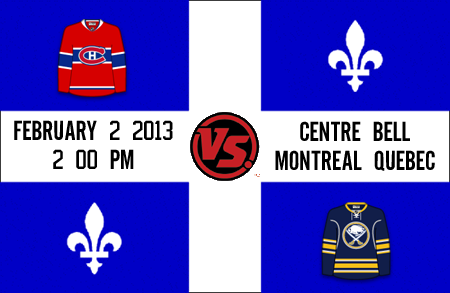 Television:



Radio:


2011-12 Season Series
| | | |
| --- | --- | --- |
| October 18, 2011 | Montreal | Sabres 3, Canadiens 1 |
| November 14, 2011 | Montreal | Sabres 3, Canadiens 2, SO |
| January 31, 2012 | Montreal | Sabres 3, Canadiens 1 |
| February 17, 2012 | Buffalo | Canadiens 4, Sabres 3, SO |
| March 12, 2012 | Buffalo | Sabres 3, Canadiens 2, OT |
| March 21, 2012 | Buffalo | Sabres 3, Canadiens 0 |

From NHL.com


Big story: Will P.K. Subban make his season debut on defense for the Canadiens? It looked that way at practice Friday, but coach Michel Therrien would not commit to inserting the flashy defenseman in his lineup. The Canadiens could use his help to slow down Thomas Vanek, named the third star for January after compiling an NHL-leading 15 points in six games.

Team Scope:

Sabres: Buffalo is coming off a big 7-4 win in Boston on Thursday, a game in which Vanek notched his second five-point game of the season with a hat trick and two assists.

His line with Cody Hodgson at center and Jason Pominville on the opposite wing has combined for 33 points, or better than five per game.

"Pucks are going in right now for me, and with Pominville, I've always had good chemistry, and Cody fits right in," Vanek said after the game in Boston. "Again, there's going to be stretches where nothing goes, so you like it right now, but eventually it's going to hit the other way. So you just leave the game here today, and it's a new day tomorrow."

As well as that line is playing, the Sabres snapped a four-game losing streak with their win in Boston, and they've allowed 20 goals in their last five games.

Canadiens: Montreal suffered its first blowout loss of the season on Wednesday, losing 5-1 in Ottawa to the Senators, but the imminent return of Subban could make a big difference for a club that has opened the season with four wins in its opening six games.

Subban would give the Canadiens defense incredible depth, allowing Therrien to have one of him, Andrei Markov and Josh Gorges on the ice at all times.

Therrien is well aware of how dangerous a team the Sabres can be, particularly after their effort in Boston.

"They're a good team," Therrien said Friday. "You always have to be aware of when guys like Thomas Vanek's on the ice. He had a great game yesterday, and [Ryan] Miller seems to always play well against Montreal."

Who's hot: Aside from Vanek, Pominville has 12 points this season and Hodgson has four goals in six games for the Sabres. … Markov has points in each of his last five games, all eight of his points this season coming on the power play. Canadiens goaltender Carey Price has a 1.98 goals-against average and a save percentage of .924 in five games this season.
Sabres Injuries
| | | |
| --- | --- | --- |
| Robyn Regehr | Lower body | Day-to-day |
| Cody McCormick | Finger | No timetable given, hasn't appeared in a game yet this season |
| Ville Leino | Hip | No timetable set, other than it won't require season-ending surgery |
Canadiens Injuries
| | | |
| --- | --- | --- |
| Petteri Nokelainen | Back | No timetable set |
| Max Pacioretty | Appendectomy | Out 3-4 weeks |


In Goal:



(Not yet confirmed as of post time.)

Season Record: 3-2-1, 2.64 GAA, .920 save percentage
Career Record vs. Habs: 23-8-6, 2.20 GAA, .926 save percentage
Last Game vs. Habs: March 21 in Buffalo: 60 MP, 34-34 in a win
Last Game: January 31 @ Boston: 60 MP, 38-42 in a win
Other notes: The last time Miller lost to the Habs in regulation was November 27, 2010, a 3-1 setback in the Bell Centre. He's been 6-0-1 against them since then.




Season Record: 4-1-0, 1.98 GAA, .924 save percentage
Career Record vs. Sabres: 9-8-6, 2.04 GAA, .934 save percentage
Last Game vs. Sabres: March 21 in Buffalo: 58 MP, 28-31 in a loss
Last Game: January 29 vs. Winnipeg: 60 MP, 18-21 in a win
Other notes: The Habs' 4-game winning streak is over, but Price's personal 4-game run is still active.


Le disque de vingt-cinq continue! Go Habs Go!
This point has been edited by Erik C.: 02 February 2013 - 06:11 PM