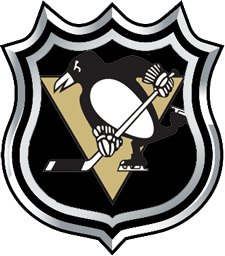 February 20th, 2013 – 7:30 pm EST, 4:30 am PST
FLYERS (7-9-1) at PENGUINS (11-5-0)
Last 10: Philadelphia 5-4-1; Pittsburgh 8-2-0

Consol Energy Center – Pittsburgh, Pennsylvania

The Flyers will look to finish their six-game road trip with a win, while the Penguins return from their own short road trip looking to push their win streak to four in a row.
This is the second of four games between the Pennsylvania rivals. On Jan. 19, in the season opener for both teams, Penguins goalie Marc-Andre Fleury stopped 26 of 27 shots in a 3-1 Pittsburgh win in Philadelphia.

This Season:
January 19th, 2013 – Pittsburgh 3 @ Philadelphia 1










Penguins: With three straight wins, the Penguins took over the top spot in the Eastern Conference standings at the start of the week.

While most attention is focused on the offensive exploits of Sidney Crosby, James Neal and Evgeni Malkin, one of the biggest reasons for the Penguins' run up the standings is their play defensively.

The team has improved its goals-against average from 2.66 in 2011-12 to 2.38 this season, while still allowing just 27.4 shots per game. Goalie Marc-Andre Fleury also has been better, with a 2.34 GAA and .914 save percentage, and he's allowed two or fewer goals in seven of his 11 starts this season.


Official Site of the Pittsburgh Penguins
Penguins' Roster


Penguins Team Leaders
Pts: Sidney Crosby 24
Goals: James Neal 11
Assists: Sidney Crosby 17
+/-: Sidney Crosby 11
GAA: Tomas Vokoun 2.27
Save %: Tomas Vokoun .918
Wins: Marc-Andre Fleury 8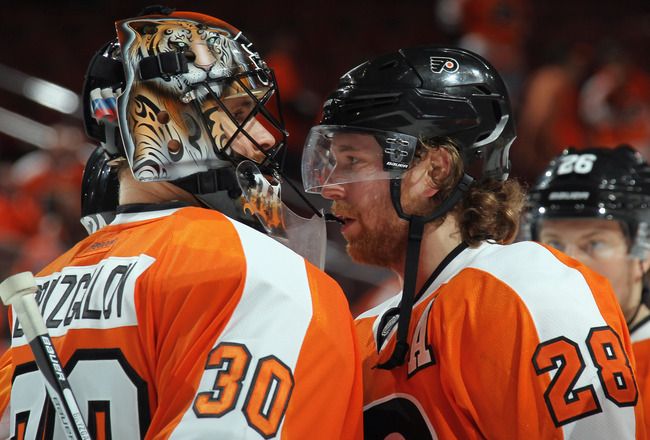 Flyers: Claude Giroux showed he is a leader in both word and deed Monday against the New York Islanders.

Two days after ripping his team for its listless effort in a 4-1 loss to the Montreal Canadiens on Saturday, Giroux scored a pair of goals, including one 26 seconds into the game, leading a 7-0 rout of the New York Islanders.

"As a team, we weren't satisfied how we showed up every game and how we played," Giroux said in the Philadelphia Daily News. "It was unacceptable -- no intensity, no will to pay the price to win the game. Everyone today was paying the price to win. It's a lot more fun to play that way."


Official Site of the Philadelphis Flyers
Flyers' Roster

FlyersTeam Leaders
Pts Jakub Voracek 15
Goals: Matt Read 7
Assists: Jakub Voracek 12
+/-: Luke Schenn 5
GAA: Ilya Bryzgalov 2.42
Save %: Ilya Bryzgalov .911
Wins: Ilya Bryzgalov 7






Team Statistics – 2012-13
Pittsburgh Penguins
Shots 484
Goals 51
+/- 7
SHG 0
PPG 17
PM 200
SV% .913

Philadelphia Flyers
Shots 475
Goals 45
+/- -4
SHG 0
PPG 13
PM 277
SV% .896




Injuries
Penguins
None to report

Flyers
02/10/2013 Michael Leighton finger IR
01/25/2013 Jody Shelley to undergo hip surgery IR
01/25/2013 Andrej Meszaros sprained left shoulder IR
01/23/2013 Scott Hartnell broken left foot IR
01/13/2013 Matt Walker lower body IR
01/13/2013 Chris Pronger post-concussion syndrome IR
01/13/2013 Marc-Andre Bourdon concussion IR



Who's hot: Giroux has two goals and six points in his last four games. … The Penguins' top line of Crosby, Pascal Dupuis and Chris Kunitz has combined for five goals and 15 points in the previous three games.




Recent Transactions:
Pittsburgh Penguins:
02/14/2013 Beau Bennett Recalled from Wilkes-Barre/Scranton (AHL)
02/13/2013 Dylan Reese Assigned to Wilkes-Barre/Scranton (AHL)
02/13/2013 Eric Tangradi Traded to Winnipeg
02/13/2013 Matt Niskanen Activated from injured reserve
02/13/2013 Kris Letang Activated from injured reserve
02/07/2013 Kris Letang Placed on injured reserve
02/11/2013 Joseph Morrow Assigned to Wilkes-Barre/Scranton (AHL)
02/10/2013 Joseph Morrow Recalled from Wilkes-Barre/Scranton (AHL)
02/06/2013 Dylan Reese Recalled from Wilkes-Barre/Scranton (AHL)
02/06/2013 Ben Lovejoy Traded to Anaheim

Philadelphia Flyers:
02/16/2013 Andreas Lilja Assigned to Adirondack (AHL)
02/16/2013 Erik Gustafsson Recalled from Adirondack (AHL)
02/12/2013 Jody Shelley Placed on injured reserve
02/12/2013 Harry Zolnierczyk Recalled from Adirondack (AHL)
02/10/2013 Brian Boucher Recalled from Adirondack (AHL)
02/10/2013 Michael Leighton Placed on injured reserve
02/07/2013 Kimmo Timonen Signed to a one-year contract extension



This point has been edited by Selly: 20 February 2013 - 07:45 AM